Minneapolis-based Dr. Timothy Schaefer specializes in a wide variety of reconstructive surgeries, including:
Breast reconstruction (see our full page about breast reconstruction)
Skin cancer resections and reconstruction anywhere on the body, particularly facial and nasal reconstructions following Mohs surgery
Lower extremity reconstruction, including the use of free flaps
Reconstruction of radionecrotic wounds
Sternal reconstructions for patients with infections following cardiac surgery
Spinal muscle flap reconstructions for patients with infections following spinal instrumentation
Skin grafts for wounds
Reconstructions for large soft tissue tumor extirpation
Your Initial Consultation
General reconstruction surgery is an extremely personal procedure, and Dr. Schaefer is sensitive to the fact that his patients have endured so much already.
Therefore, he will spend time with you to fully explain his recommendations for you and answer all of your questions. During your consultation, he will perform a thorough medical analysis and devise a surgical plan based on your specific anatomy and goals. When appropriate, he will consult with other physicians and surgeons who are also treating you.
Every aspect of your surgery will be customized depending on your specific needs, and Dr. Schaefer and his staff will make sure you are fully prepared for the procedure and know exactly what to expect.
What to Expect from General Reconstruction Surgery
General reconstruction surgery varies greatly depending on the severity and the techniques used. They range from relatively minor skin cancer reconstructions to complex reconstructions as a result of cancer, injury, or infection.
For example, when skin cancer is removed through Mohs surgery, an unsightly facial wound might be left behind. Dr. Schaefer then takes skin grafts or flaps from other parts of the body and uses them to reconstruct the area that has lost tissue during the Mohs procedure.
In some cases, a hospital stay will be necessary after reconstructive surgery. Again, Dr. Schaefer will inform you fully about what is necessary for you to receive the safest and best possible result.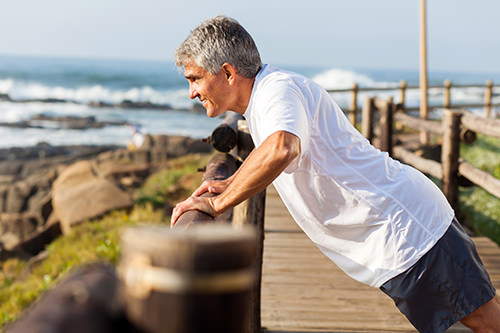 Recovery from General Reconstruction
Using evidence-based methods, Dr. Schaefer and his highly professional medical team implement a process that leads to a faster recovery.
The customization required of reconstruction surgery means that recovery is highly individualized. You can expect to be sore, swollen, and bruised after reconstruction—but that is common for any surgical procedure. We will provide you with pain medication to ease your discomfort, and you will have post-operative examinations so that Dr. Schaefer can monitor your progress.
It may take several months before you can see the final outcome of your reconstruction. Scarring will gradually improve over a period of months, and will look less prominent with time.
Dr. Schaefer will let you know when you are cleared to return to work after your surgery; however, physical activities should be limited for several weeks or months.
Can I Exercise After General Reconstruction Surgery?
Dr. Schaefer will monitor you as you heal and will let you know when you are cleared for exercise. Note that returning to workouts too early can cause serious setbacks, like muscle tears and internal bleeding.

Choosing a General Reconstruction Surgeon
Choosing the right surgeon for your reconstruction is of paramount importance. It is vital for your plastic surgeon to have the right qualifications and credentials, such as board certification and good standing with the various medical boards. The surgeon should also have extensive experience performing reconstructive surgeries, particularly the type of reconstruction that you require.
You also want to be sure that your surgeon has professional, friendly, and caring support staff. These people will assist you while in the office and during your recovery, so it is essential to feel comfortable with the entire team.
Do your research to learn as much as possible about your surgeon. Then, arrive at your reconstructive surgery consultation prepared with questions, concerns, and your ultimate goals written down.
Why Choose Dr. Schaefer As Your General Reconstruction Surgeon?
With his careful planning and problem-solving approach, Dr. Schaefer customizes his strategy so that your reconstructive surgery is specifically designed for your body and goals. He is a reconstructive surgery specialist with years of experience performing a wide variety of reconstructions.
Dr. Schaefer is known for his work in the Minneapolis community in helping patients feel better and restore their self-confidence. He has been honored as a BEST DOCTOR and BEST DOCTOR FOR WOMEN by the Minnesota Monthly Magazine. He was named a TOP DOCTOR FOR PLASTIC SURGERY by the Minneapolis St. Paul Magazine.
Schedule Your Consultation Appointment Today
To learn more about reconstructive surgery with Dr. Schaefer, please contact us today at 952-920-2600 or go to our contact page and fill out the necessary information to schedule your appointment. We look forward to seeing you soon.
Contact Us Today!
Please visit our General Reconstruction Before and After Photo Gallery
Testimonials